"So collage itself is a form of drawing, I always thought it was a great profound invention of the twentieth century."
David Hockney
"...collage came to me instinctively as a way to make sense of the world."
Damien Hurst

New Directions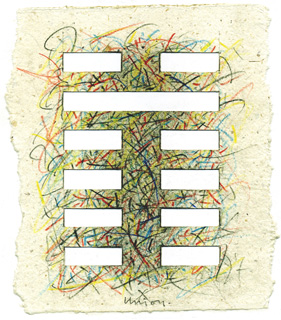 In the ancient Chinese 'Book of Changes' the whole line and broken line represent the two elementary cosmic particles
which generate all natural phenomena. Using them in various permutations enables me
to express my excitement at nature's myriad variety.

Once again my thanks to Jane for creating the photographic images and to Alice for building the website.